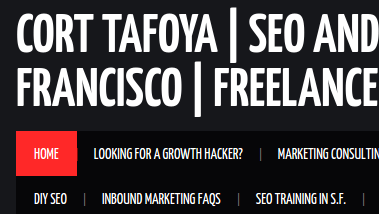 Editor's Note: The best value you can get from working with an independent SEO consultant or specialist is strategy and training. If you're looking to level your team up, fix your website, or understand the ins and outs of improving your rankings over time, you'll definitely benefit from some of the curriculum I've put together from teaching SEO to various CEOs, startup founders and other marketers. Scroll down to learn the best questions to ask before working with an independent marketing consultant.
There's a good book in here somewhere – or at least 10,000 words on my decision to freelance. That's at least how much I could write about the choice to become an independent SEO consultant.
Here are the cliff notes: As a marketer, you have three options – agency, company or solo.
1. SEO agencies don't do SEO very well. They will take any client and charge ridiculous rates for the mediocre quality work they produce. Minimal flexibility in scope, pricing and poor communication often lead to high churn rates.
This is not to say all agencies are bad – in fact, I highly  recommend a couple of different agencies out here in San Francisco, and feel that the experience at most agencies along with the size and scope of work they can handle make them not only an attractive option for many large companies, but also the right option.
2. Working at a regular company and doing normal search marketing work is fun for a period of time – and you gotta love the coworkers. But it's very easy for your education as a marketer to be stifled – you can't move up very easily, you don't get to work on other aspects of the company's marketing like AdWords, mobile or social media, and in turn, you become just a good marketer in your vertical and not a good marketer overall.
3. This is the independent option and it has been an excellent one. With roughly six different clients, who each were filtered to determine fit and potential success, I've been able to have a great year of freelance consulting.
Along with a better understanding of how to market all sorts of products in various industries, this experience has also provided potential case studies and a better understanding of what works in the SEO world. When it comes to SEO campaigns, strategy and consulting, experience counts. As does growth hacking and thinking outside the box – because different companies have the capabilities to market themselves in unique ways.
If you talk to different SEO marketers you'll hear stories from them about their successful campaigns and the search marketing tactics they felt worked best. But interestingly, they don't all have the same tactics. They offer SEO advice based on their own experience, and not necessarily what will work best – just what has worked for them in the past.
I was the same way until I started noticing this pattern. Now I try to incorporate all the best tactics they've shared me with into each of my campaigns.
Questions You Should Ask Your Independent SEO Consultant
If you talk to people who want SEO, you'll find that many don't have specific goals or understand the responsibility they will carry in the optimization process. Here's a quick check list of questions you should ask your SEO specialist before you begin:
1. What marketing assets do you need from me? (Email lists, social media accounts, logins, analytics, access to automated marketing software etc.)
2. What do you know about my industry and product? (SEO requires a lot of content creation, and the consultant should have good content marketing ideas for your industry.)
3. What is a reasonable goal in terms of rankings? (If an SEO tries to guarantee the #1 spot, run – don't walk – away!)
4. What metrics will you use to measure your efforts? (Web traffic, phrase rankings, conversions etc.)
5. What type of time and monetary investment should my company make in SEO? (Varies by company, but SEO takes a lot of time and money.)
Work With an Independent SEO Consultant
For information about my availability and current clients (barring strict NDA's) email me at corttafoya@gmail.com. You can reach me on Twitter as well @CortTafoya and view my profile on LinkedIn. (Picture below courtesy of Tim Kim, comedian and graphic designer.)