WordPress is the most popular platform for building business and personal websites.
Similarly, SEO is the most effective digital marketing strategy in existence. Combined, these facts make for a lot of WordPress SEO questions.
For the last 5 years, I've worked to become a WordPress SEO expert, using WP websites to generate organic search traffic and improve keyword rankings.
The second I hear that a potential client of mine has a WordPress website, I breathe easier because WordPress makes SEO marketing simple.
Below are 9 features I use within WordPress to improve rankings and web traffic.
If you have a WordPress website, open it up, login in and follow along. You can start improving your position on Google search by the end of this blog post.
Note – Google does not ding, penalize or discriminate against a business website for using a particular platform, whether it's Squarespace, Weebly, Wix etc. Google only cares about returning the best content to its searchers and ignores what platform that content is on.
WordPress SEO Expert Tip: Get Yoast Right Now
Having watched the SEO By Yoast plugin evolve since 2012, I can say with confidence that the features it provides are nothing short of amazing.
To understand the value of Yoast, you need to know a little bit about how SEO and Google's algorithm works, so let me fill you in.
On-Page SEO is a solid portion of how Google ranks content. It consists of keyword placement, headers, your URL, your title tag and the depth of content you create. Yoast teaches you what you're doing wrong with on-page SEO as you make your content!
Just check out the screenshot below. I've left some key items missing so you can see the plugin in action.
With Yoast you can easily verify your website on Google Search Console.
If you're not familiar with Search Console, it allows you to do the following: check your rankings for every single keyword, your click thru rate for all of these keywords, and identify the page that is ranking for a specific query.
You can also instantly index pages with the "Fetch" feature, submit a sitemap so the Google crawlers know which URLs you want indexed and reindexed, apply structured data (Schema Markup) – which is a new ranking signal – and much more.
I can't gush enough about Search Console. The above mentioned features alone make it worth exploring, but you have to verify your website which can be annoying or sometimes not work if you don't follow instructions correctly.
Login to Search Console with your Gmail, click "add new property" on the upper right, and then click "alternative methods" for verification.
You'll get a snippet of HTML code. With Yoast you don't even need to add the code – just the string of numbers and letters like below. Voila, you can now see your search data in a completely new way.
Yoast also provides a quick and easy way to add your sitemap to Google Search Console.Remember, Google has a crawl budget for every website. They won't crawl every single URL you have, just the important stuff. But what if they don't know what URLs are most important?
This is where a sitemap comes in handy, and therefore also Yoast. Yoast auto generates the sitemap for you – no need to ask your designer or developer, no need for random 3rd party tools on the web.
You can tell Yoast which content you want excluded, post types, taxonimies and more.
Remember, to become a WordPress SEO guru, you'll need to become a Yoast SEO expert too. Don't be afraid of all the plugins' features – with enough practice you'll be able to use them with ease.
WordPress SEO Expert Tip Number 2: Controlling URLs
A major, hard to correct SEO mistake people make is not putting keywords in their URLs, and not running redirects to fix broken URLs. Let me give you some examples.
You might see your blog post URLs be in the form of /?p=23 or some other random pattern. WordPress lets you customize your URL structure.
Go to Settings / Permalinks and you should see something like the screenshot below.
The type you want to have selected is #5, "post name." Using this format, your URLs will only show the title of the blog post, which if you're doing on-page SEO correctly, will have your keywords.
HOLD ON!
Don't switch things up right away. If you already have a set post type, switching to "post name" could break some of your URLs. Those pages will drop in rankings and be hard to recover.
In the long run, this is the switch you want to make, but you need to have a plan to run 301 redirects. A 301 tells Google crawlers, "The URL you're reading is broken and located over here now."
Fortunately WordPress has just the plugin for this called "301 Redirects." Just enter the broken URL and the new URL, click save and you're back in line with Google's best practices.
How Site Navigation Impacts SEO, and How WordPress Can Help
Unlike when you have a site built from scratch, potentially with a custom content management system, WordPress gives you full control over the top level navigation of your website.
This is important because of how PageRank works.
First, what is PageRank? It is anywhere from 20-40% of Google's algorithm for ranking content. So it's pretty important.
How does it work? Every single page on the Internet has an amount of PageRank that was passed to it from some other website.
Like 6 Degrees of Separation, the theory that everyone knows everyone and everything through 6 or fewer steps. Only in Google's world, it has to do with links.
In a roundabout way, we're all linking to each other, and thus passing PageRank.
The key is to fill your pages with as much PageRank as possible. To do this, you need to know how PageRank flows, so here's an example. Page A contains 50 PageRank points, and 5 links.
It will distribute 10 points to each link. The total amount of PageRank points is divided evenly by the number of links on the page. There are some exceptions and a decay factor which slightly skew these numbers, but lets keep it simple for now.
If we apply this theory to your website, it means that the pages connected to your domain (which is where most people will link back to you and thus pass PageRank), are the pages that inherit the most PageRank.
The deeper I have to go in to your website to find a page, the less PageRank that page likely has, and therefore the lower its potential of getting on page 1 of Google.
With WordPress, you can place your important content under Parent Pages in the top level navigation, or make it a parent or standalone page by itself.
On my website, you can see which phrases I want to rank for just by reading the title of the content in the top level navigation.
SEO Best Practices for WordPress Blogging
When you blog on WordPress you get the automatic benefit of not having all this content on a subdomain – a SEO killer. Subdomains are treated as entirely separate websites by Google.
This effects the authority and trust the blog is assigned, and also lowers the contents page authority. Check out the discrepancy in Moz scores for Fitbit.com and its subdomain (blog).
Another best practice is to LIMIT the amount of tag pages and category pages you use. Remember PageRank? If I add 7 tags to one post, I've added 7 links people can click on and 7 additional ways I'm diluting PageRank.
Also, these tag pages tend to develop a lot of duplicate content, which Google doesn't like, because it doesn't inherently know which of the duplicate content you want the user to land on through search.
Try to have only 10-15 tags altogether, and only assign one per post.
Better Mobile SEO with WordPress Accelerated Mobile Pages
Accelerated Mobile Pages is an open source project backed by huge companies to make mobile browsing much more awesome. And they have succeeded.
By using a new form of HTML, they've found a way to do all of the following which makes for lightning fast download times on iPhones, androids, etc.
If you're not on WordPress, you'll have to assign the task of figuring out how the hell to implement AMP on your site to your developer. That's quite costly.
Notice the different layout? Once this plugin is added to your site, you'll want to index all this new AMP content, although from what I've seen in search console, the crawlers got to the posts on their own.
The benefits of AMP are astounding. The image below shows that just 1 second of lag time can decrease conversion rates a ton.
From a SEO standpoint, Google doesn't like sending users to websites that are super slow. Going forward they will look to see which companies have AMP implemented and will rank their web pages higher.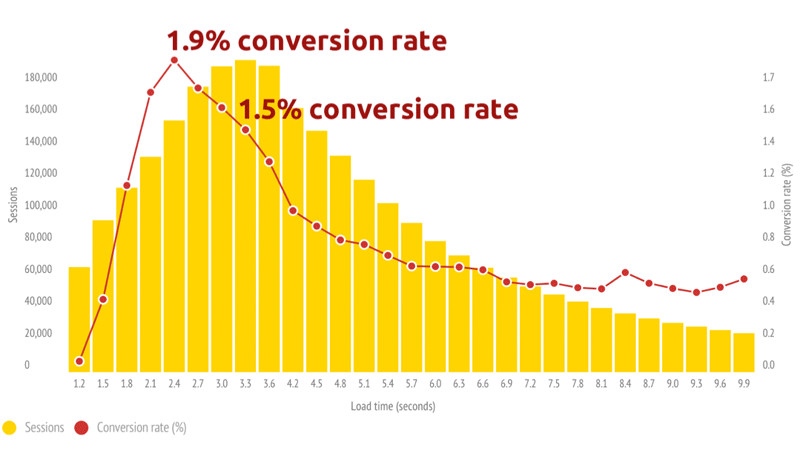 WordPress Social Media Widgets for More Shares
Google views social media shares as votes of confidence and indicators of quality, relevant content.
It tries to read as much as it can into how many times a particular URL was shared on social networks. The volume here can impact where that page or blog post ranks for various keyword searches.
Moz did a survey in 2015 that revealed the different social metrics Google looks at and how much they matter.
Overall, social media sharing is not as important as on-page factors or backlinks, but in a competitive SEO environment, everything counts.
Which brings us to WordPress and its widgets.
Adding share buttons to your sidebar, footer and the bottom of blog posts doesn't have to be complicated. There are a number of available plugins or widgets you can easily add through the "Appearance" tab in your WP dashboard.
Try out "Ultimate Social Media Icons" via the plugin directory.
Hire a WordPress SEO Consultant
If you need WordPress training, expert advice or a consultation to review how SEO friendly your website is, contact me today.
I can help you learn how to use the Yoast SEO plugin, perform a full site review, and show you what WordPress features your missing out on for better rankings.
We can also review best practices for SEO blogging, keyword targeting and Google Search Console. You'll need to be good at all 3 to maximize your investment in search marketing.
I strongly encourage the use of WordPress for companies that want to employ SEO, and I can't emphasize enough how talking with an expert before you begin the heavy lifting will save you time down the road, and improve your ROI today.
Schedule An Appointment Below to Discuss Your WordPress Marketing Needs