ALL SEO CONSULTANTS & Experts IN THE S.F. BAY AREA | Read Bios & Get Contact Info
A San Francisco SEO expert should be able to consult with your content and development teams on SEO best practices. This includes technical, on-page and off-page SEO tactics that grow the web traffic you generate from Google.
To grow this traffic you need to identify relevant, customer centric keywords. Each keyword you target should be something your potential customers are typing into Google. If you sell mini goldendoodle puppies, then "cost of mini goldendoodle puppies" is a good phrase for you to focus your attention on.
Using the advice from a Bay Area SEO consultant, you can have your website go from being on the 2nd or 3rd page of Google searches to the top 5.
Why You Should Work With a SEO Expert
Placing an emphasis on your search marketing, both organic and paid, is a strong investment. Search marketing allows you to bring in the exact type of web traffic that is most likely to convert to a customer or lead. That's because the search phrase they Google'd is the perfect filter. It lets you know where in the buying process this person is & what they need from you to make a decision.
Take the phrase "programming bootcamp job placement rates." This is somebody who is thinking about joining a coding bootcamp, but they want to know how likely it is they will get a job after graduating. This is a very practical query considering the type and financial obligation they'd be making to join such a program.
With search marketing, the best web pages at answering that query will show up first. What makes them the best? A combination of accurate, well-written information and a good user experience. The web page should get right to the point, load quickly, link to additional resources, include infographics and more.
The page should also discuss average salaries after graduating a programming bootcamp, and the different ratings each organization has. It may even include where the web visitor can go to sign up.
All of this is to say that search marketing is not only targeted for the business owners, but very helpful for the customer. When they read your content, you show off your expertise on the subject and begin to develop trust with the reader. These all help you close the deal down the road.
Here are a list of S.F., Bay Area SEO specialists you can get in touch with for growing traffic to your website. (Please note, just because these people / businesses are listed does not mean I endorse anyone.)
Cort Tafoya - I've been a SEO consultant for the past 7 years. Some of the SEO projects I've worked on can be viewed here. 
SEO made sense as a marketing strategy to me the very first time I heard about it. I also love that it is highly measurable. The tools I use to show clients the improvements in their web traffic and rankings are Google Analytics and Google Search Console (both free).
A few things I believe in when doing SEO work:
Content, content, content. Companies that don't want to blog or make new web pages for their top level navigation need not contact me. Without great content (1000-2000 words long) you're not going to achieve big gains. 

Because I have a strategy I believe in for achieving big gains, I really only like working with companies that want to be bold and aggressive. I want all my SEO campaigns to eventually be case studies.

Transparency - show the client how the numbers are moving every 3-5 weeks.
For information about pricing, email me at corttafoya@gmail.com or call 916-710-3306. 
All projects and agreements are customized for 2 reasons. 1) So we execute the very best strategy (cookie cutter stuff doesn't give us flexibility). And 2) So you only pay for what you need. Again cookie cutter SEO packages don't work here because some items  will be a waste for the client. 
The last thing I want to mention is that I have 5+ years experience managing Google Ads campaigns. I am also HubSpot certified and have worked with numerous marketing automation systems. These skills help ensure your SEO marketing syncs properly with your CRM and that you don't miss out on other areas of opportunity.
If you need conversion tracking setup via a Google Analytics expert, I do that as well.
Jason McDonald - You can reach Jason at his website - https://www.jasonmcdonald.org/. Jason is an experienced S.F. SEO consultant and Stanford University Professor. 
I've had the pleasure of reading Jason's social media book and watching his YouTube channel. He's an excellent communicator. He knows SEO inside and out - I've never read or heard him say something that seemed off or askew. 
Jason also works with companies on Google Ads and marketing via social. It's always good to have a marketer who knows other strategies and how they might help your company grow.
Karma Bennett - Karma is a fellow SEO instructor at Bay Area Video Coalition where I also teach. I've always felt that trainers make good consultants because it means they can communicate well. It also means they have to stay up on best practices and get good reviews from students. 
Karma has over a decade of experience in digital marketing. She is also a WordPress expert which is especially helpful if that's the platform you have your website on.
Jimmy Huh - Jimmy offers custom SEO strategies, which is what you're looking for. Avoid any SEO consulting that isn't curtailed to your project needs.
Jimmy understands there are differences in competition levels for each keyword, which he mentions on his website. 
Jimmy can be contacted here -  https://jimmyhuh.com/.
Jeff Millet - Jeff offers a free 15 minute conversation to learn about your SEO goals or issues. His website warns about big brands not getting the job done, which is something I've also seen.
Jeff has over 10 years of experience and makes it clear that he won't use any cheap tactics. It's important to hire a SEO marketer who knows this is a long, difficult but rewarding strategy.
You can get in touch with Jeff here: https://www.theseowhiz.com/
Jim Santos - Jim has worked on websites for at least 10 years. He is an IT expert and SEO trainer. He has taught search marketing at AcademyX in S.F. / Sacramento for quite some time. 
Having worked at AcademyX with him, I can tell you he has always been a fan favorite of the students. 
Dev Chatterjee - Dev Chatterjee highlights his knowledge of inbound marketing on his website. Inbound marketing is the art of bringing targeted visitors to you (as opposed to you reaching out to them). So you can see how SEO fits right into that, as you try getting people to land on your blog or web pages. 
Inbound marketing is something I strongly believe in, which is why I got inbound marketing certified via HubSpot. 
Dev's site says he will custom tailor all packages / solutions, which is the correct route to go. Get in touch with Dev here: https://devchatterjee.com/
Ynottony - Tony is not only a SEO marketer, he is a Yoga teacher, cyclist and marathon runner. Personality fit is something all hirers should look, so if this seems like your kind of consultant, you can reach him here:  http://ynottony.com/.
Bob in San Jose - Here's one review of Bob's work: "Bob helped my studio get to the number 1 spot for most of my campaign keywords. Even more impressive was the fact that he did it much quicker than I anticipated."
Because SEO can take such a long time, it's good to see Bob was able to get results quickly for his client. 
Another thing I appreciate about Bob's website is he covers key questions like how much does SEO cost? What's the difference between SEO and SEM? And why should someone hire a SEO company to begin with.
You can email him about his SEO services here https://www.bobsseo.net/.
Paul Andre - Paul is located in Oakland and can be reached here - https://paulandre.business.site/.
Paul has experience managing multiple SEO campaigns. He also highlights his experience with enterprise SEO. From the pictures on his site it looks like he's done some guest speaking, too.
If you know of other SEO consultants in the Bay Area that should be added to this list, please get in touch with me.
Your SEO Expert is in San Francisco and You're Not - Should You Work with Them Remotely?
Yes, don't limit your pool of talent to just the specialists in your area. The expert may not be able to travel to your office, but outside of training, that should not limit or lower their performance and quality of work.
The truth is, some locations just don't lend themselves to producing experienced SEO consultants. Bigger cities tend to have more competition and more people. This means the top SEO consultants in these areas can't fake it till they make it.
Working remotely with an elite SEO specialist from a big city (like San Francisco, Oakland or NYC) is a much better alternative to settling for whoever can make it to your office.
All site updates are done over the web, and all SEO tools are online. Working remotely is more than OK when it comes to search marketing. 
How to Hire a SEO Consultant the RIGHT Way
You're probably thinking, "Email them, get on the phone and agree on a price." Yes, that's how we hire everybody. But with a SEO consultant you should think about the following. Consider these questions to make sure you get the RIGHT specialist:
Questions for you:
Is the SEO help you need more around the design, development and technical aspects of your site? This includes URLs, indexing issues and filters if you're an ecommerce site.

Do you need help with your blog? For companies that do SEO, the blog should be a huge driver of web traffic from Google.

Do you need the SEO consultant to do the work themselves, or simply advise?

Do you need someone who is on-call, or available for work every day?

Will you be giving the SEO expert access to the backend of your website? This is where they could make substantial changes, but potentially do some damage if they're not careful.

And finally, have you done any SEO work on your website in the past, or will you be starting from scratch?
You should know the answers to all of these BEFORE you discuss a contact or hire your SEO expert.
There are also questions that you should ask the consultant, via phone or email.
How many years of experience do they have? The more the better

What industries have the worked in? Familiarity with the industry should be considered a bonus, as they probably know what the competition is up to. But it should not be a requirement for your hiring decision.

Are they more comfortable creating or evaluating SEO content vs improving the technical aspects of a site?

Do they have case studies they can show you? This is a must. All marketing can be measured and the consultant should have a successful track record

How many hours do they have available to work on your project? Hopefully they can meet your needs

Would there be a scenario where they had to leave the project before it was done? Some SEOs will just go to the highest bidder, regardless of where they are with a current client

Do they have the ability to work in-person or remotely?

Do they feel comfortable training your content or development teams? This is an essential part of consulting, being able to relay knowledge and expertise to those that need it
Finally, evaluate their communication ability, both in email and on the phone. Being a specialist means you have to make the complicated simple. This means they should be strong communicators.
How Much Does Expert SEO Consulting Cost?
This is a lot like the question, how much does it cost to build a swimming pool? It depends on the size, location, materials you want, design etc. 
No one can give you an exact price until all the details of your project or scope of work are ironed out. Even the most simple pricing model - hourly - doesn't mean you can estimate the number of hours. 
So like other forms of business services, a price range should be suitable until you can put everything down on paper. 
I break down different SEO pricing models below. But let me say this - if you need a SEO person to come in and produce blogs and web pages, do not pay for monthly services that are less than $750. 
Why that number? Because it's hard for me to see how you can produce enough SEO content on that budget to move the needle. Remember, SEO is about content, content, content. You need blogs and web pages. Writing costs a good amount of money. 
If you're looking for a combination of content, technical SEO consulting and dev work, you're probably going to pay thousands per month. Agencies are the most expensive place to retain SEO services. They can charge $10,000 a month to very large companies. But they usually bring a breadth of experience and specialists - you're getting a team when you get an agency. On the downside, they have more overhead.
In general you should expect to pay $1500-$4000 per month for really good SEO work.
SEO Pricing Models
Hourly, fixed monthly cost or performance based. These are your typical seo pricing models, whether it be with a Bay Area consultant or agency. 
If you go the performance based route, you could be shooting yourself in the foot if you don't put a ceiling on things. Have a hard cap.  On average, SEO and email marketing return the highest ROI of any digital marketing activity. Sometimes I wish I had done performance based. I might be retired by now.
SEO Retainer Services
If you're hiring a specialist, you might be able to retain them as needed on an hourly basis. There's no issue here - you pay for what you get. 
If you've retained a SEO agency or are paying them a monthly fee for services, please do the following. I have seen people squander tens of thousands of dollars going this route with agencies:
Ensure you have weekly communication

Ask for analytics in every meeting or ask for consistent reporting

Review where the content they produce is currently ranking - this way you can see if they're moving the needle with the blogs they make

Make sure you know how many leads or sales SEO has generated. If your agency can't tell you this, you've hired the wrong agency
Lastly, make sure that you have a person in the meeting on YOUR TEAM that knows digital marketing very well. SEO can be complex to people outside the field, and you need someone who can put things in layman's terms + know when the agency is bullshitting you.
I offer every company that is using an agency for SEO to show me the proposal they signed and the pricing. I can review it for free and let you know if you're getting a good deal.
SEO Package Prices
This might be the worst way to go for two reasons. 1) the only people I see doing this are agencies or small shops. They tend to have a lot of clients and not a lot of time. This cookie cutter package stuff is how they simplify things. Most people who sign up for it also like it because it's simple.
2) the other reason these packages suck is they do not allow for the flexibility needed to seize opportunity. If all you're buying is 5 site updates a month and 3 blog posts, how can you take advantage of changes in searcher behavior? You can't because you're stuck.
If new keywords are discovered that - at the moment - are very easy to rank for and highly converting, how can you get the blogs you need to have your site on page 1 of Google for them? You can't.
Also, if things are not going well - you're not hitting your numbers - cookie cutter SEO packages don't allow the specialist or agency to "step it up."
Sometimes you fall behind as a marketer, and the only way you're going to help the client reach their growth goals is to crank out more work. Cookie cutter services have you locked in, which is why you shouldn't agree to this type of work. 
What Do SEO Consultants Charge Per Hour? 
The ranges I've seen go from $50 to $250 (yes, $250) per hour. It's almost like hiring a lawyer. According to ahrefs, the most popular pricing tier is $100-$150 per hour. They also say that 88% over SEO experts charge $150 or less, so the $250 number is a big outlier.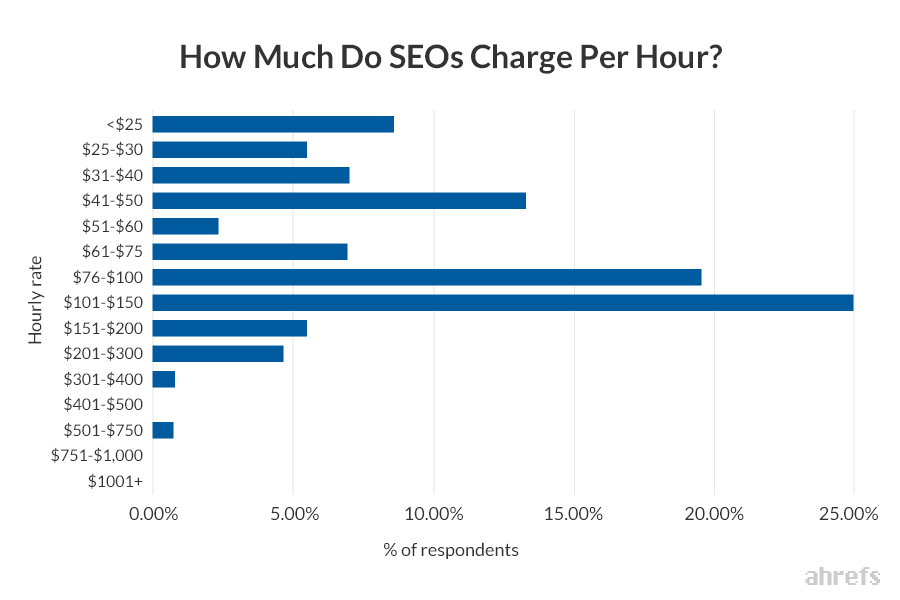 Why is the hourly price so high? Nobody learns SEO in undergrad or grad school. You have to teach yourself and very few people are up to the task.
This makes the world of SEO a blackbox for most companies and industries. As a result of very little SEO knowledge out there, consultants are able to charge a hefty fee. It should be noted that the same ahrefs survey revealed that agencies often charge DOUBLE per hour what a regular consultant charges.
One thing to keep in mind though is that most consultants, no matter the field, charge a solid fee. I've seen a PowerPoint consultant charge $90 an hour. (I mean, come on, it's PowerPoint.)
Whenever a consultant walks into the room they should have the most knowledge on the subject matter they are hired for. Anything less and they're not qualified to be a consultant. 
Companies also save money on health insurance and payroll taxes by hiring a contractor / 1099 misc. worker.  
What Are Some Things You Can Do If You Can't Afford a SEO Consultant?
You can do in-person SEO training at different San Francisco locations for a few hundred dollars. I teach SEO at Bay Area Video Coalition every other month. We have intro SEO class and intermediate level
Another option is to work with a SEO trainer on location at your place of business. These sessions should be around 4 hours so you attain a thorough understanding of search marketing.
During your training your instructor should audit your site, help you find keywords, make site updates and research where you can find backlinks. 
Here are places where you can register for SEO training in S.F.
You can also try using some free SEO tools online to audit your website and content. One of the best SEO software companies around is Moz.com. 
You can create a free account and access their backlink and keyword explorer tools. The keyword explorer will help you find phrases to target. The backlink tool will tell you who's already linking to your site, and who's linking to your competitors.
Some other free SEO tools I recommend:
Wordtracker.com
SERanking.com
UberSuggest
Keyword Planner from Google
Google Search Console
Google search console is a must have. You will be able to unlock your site's ranking for hundreds of phrases. Using this data you can immediately see where you're missing out on searchers. 
I also suggest familiarizing yourself with the coverage report section. If your URLs are not being indexed by Google, there is no way for them to generate search traffic.
Search Console is a tool that helps you with SEO analytics and all the technical issues your site might have. Use it for free to improve your site's presence on Google. 
List of San Francisco SEO Agencies with Phone Numbers and Addresses
SocioFabrica - 256 Sutter St, 5th Fl.,San Francisco, CA 94108, 415-935-0586
Level343 - 584 Castro St #850 San Francisco, CA 94114, (415) 308-7375
SEO Firepower - 2263 Union St #179, San Francisco, CA 94123, (844) 238-0065
SEO Shake - 17 Bowman Ct Suite 101, San Francisco, CA 94124, (415) 937-1695
SEO Web Promotion and Web Design - 625 Kansas St, San Francisco, CA 94107, (800) 287-1250
Premiere SEO Specialists - 655 Montgomery St, San Francisco, CA 94111, (408) 372-7092
Local SEO Socially - 425 2nd St Ste 100, San Francisco, CA 94107, (415) 683-0384
Digital Storm San Francisco SEO - 101 California St ste 9, San Francisco, CA 94111, (415) 360-7276
Online Advantages San Francisco SEO - 548 Market St. #55544, San Francisco, Ca. 94104, (415) 299-6269