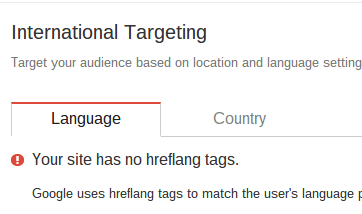 Tonight I did a great AirPair session with a high ranking SEO manager at an established company. I scheduled the talk just to learn more about foreign language SEO and building international search traffic and rankings.
This expert explained to me that the best practice for capturing foreign language search traffic/international search traffic is to do the following:
How to Rank Better Internationally in Search – Foreign Language SEO
1. Create a country coded top level domain. For example, if you wanted to improve search traffic in Spain, you would make www.mywebsite.es (es is the CCTLD for Spain).This domain would have the same content as the normal website only you would translate it to the correct language.
(Note: You do not have to translate every single web page if it's too cumbersome or unrealistic. You can just translate your most important pages – say the top 25. It just depends on how many essential pages you have.)
Google ranks these CCTLD's higher in the country they're built for because you've translated the content, have the CCTLD so they get more clicks from the country's local searchers, and provide a better user experience. Searchers tend to click on these way more because they see their country coded TLD in the URL and trust that the website will be easy for them to use.
This expert gave a great example of how one company simply made the CCTLD's for the UK and Australia – without translating any pages since its still English – and got 20% more clicks from search from people in those countries.
2. You avoid the duplicate content issue by adding the hreflang tag and rel=alternate tag to the header of these new domains. See screenshot:
Branded3 provides a great explanation of the hreflang attribute here:
"The Hreflang tag can be implemented on any of these domains. The Hreflang tag helps you to tell Google which version of the website should be shown in which country, this makes sure that the correct language version of the site is shown to the right user in the correct country; thus creating a better user experience."
3. There may be an issue buying the CCTLD domains. It's possible your brand name was bought in some other country. This would really suck, and I'd suggest learning more about best practices for negotiating a purchase of a domain before entering a bid. Also, make sure the volume of traffic you could be getting from that country is worth it.
4. It's recommended you have a native speaker do the translation since English doesn't always carry over to other languages. Machine translation gets you "90-95% there" according to this expert, but the user doesn't have as good an experience.
If you're looking for an SEO specialist to provide more insights into how you can capture more search traffic, feel free to schedule a consultation below. Take care!
[contact-form][contact-field label='Schedule a Free SEO Consultation?' type='checkbox'/][contact-field label='Name' type='name' required='1'/][contact-field label='Email' type='email' required='1'/][contact-field label='Website' type='url'/][contact-field label='Comment' type='textarea' required='1'/][/contact-form]