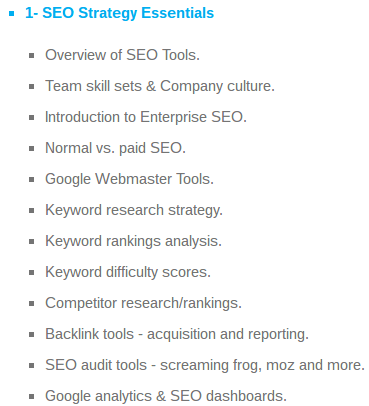 After working on SEO campaigns with enough companies, I can honestly say that achieving great rankings and ROI is really a matter of time and investment. We know how to get page one rankings, we just need to apply the appropriate amount of human resources in getting there.
At my San Francisco SEO courses we discuss ways you can develop your SEO gameplan, how you can use the best SEO tools, gather your SEO data and create SEO friendly websites and content.
New SEO Courses in San Francisco
SEO hasn't fundamentally changed, but there are things here and there that fluctuate each year. The real innovation is happening in the field. What I mean by this is, how you execute a successful campaign and achieve the results you want is constantly evolving.
SEO marketers are experimenting! And they're reporting their findings and giving away great tips on how they got to page one for a really difficult phrase, or how their last blog post generated 10% more SEO traffic all by itself.
SEO isn't confined by Google's algorithm or a strict playbook. You need to creatively solve your search ranking problems. What I've seen work and not work throughout my time as a SEO consultant is for you to learn, use and benefit from.
Timelapse SEO course details: TimelapseSF offers a unique experience – one-day, 9 hour training sessions hosted by expert instructors. This SEO course is highly advanced and dives deep into SEO strategy, tactics and tools. At the end of this class you'll have the information and skills needed to run a high level, high producing SEO campaign that gets you on page one for phrases very valuable to your business.
My favorite aspect of Timelapse is the interaction and case study reviews, which we don't always have time to do in shorter sessions. You'll also get hands on SEO training and review of your website.
This class is broken into four chapters – building your strategy, enhancing your performance, understanding the technical aspects of SEO, and looking at the future of Google search and how it will effect your rankings.
Description –
"At Timelapse, you'll be taught proven tactics to further optimize your company's performance on Google, and get a walk through of top free and paid SEO tools. You are guaranteed to get results by the end of the class by participating in the interactive workshops, following clear step-by-step processes to optimize your SEO, and reviewing insightful SEO case studies.
In the final part of the class, we'll review how SEO is going to change going forward – insight that puts you well ahead of your competitors."
Parisoma SEO course details: Located at 169 11th Street in San Francisco, Parisoma provides an amazing co-working environment for entrepreneurs and freelancers. Having done eight or so classes there already, I can say that they care greatly about helping their members advance in their personal and professional education. The SEO class description is as follows –
"As a marketing strategy, search engine optimization is scalable, flexible, measurable and easy to leverage. It's the most cost-effective online marketing tactic available, and hardly anyone is implementing it. In this two hour class, you'll learn how to get found online by web visitors looking for exactly what you have to sell, and ways to streamline your content production. Don't spend thousands on an SEO agency when you can take this class instead."
SEO Class Reviews for Cort Tafoya
Finding the Best SEO Classes in San Francisco
One of the reasons I want everyone to join my SEO courses is because how the curriculum directly impacts your company's results is what I care about most.
All of my class participants stay in touch via email – asking questions after the course is over and before it even begins. Often times I'll email them just to see how implementing what we covered during the training is impacting their website.
Teaching just so happens to run in the family (mom, dad and brother were all teachers) and watching the light bulb go on in someone's mind is a moment I love to see happen.
Learn more about Timelapse's S.F. SEO classes, and email me at cort@seoshrugged.com to see when my next Parisoma talk is scheduled.
[contact-form][contact-field label='Interested in SEO Training?' type='checkbox'/][contact-field label='Name' type='name' required='1'/][contact-field label='Email' type='email' required='1'/][contact-field label='Website' type='url'/][contact-field label='Comment' type='textarea' required='1'/][/contact-form]