It's not unusual to struggle with managing your company or client's SEO efforts. That's because good SEO requires optimization across all the major aspects of Google's algorithm.
Generally you need to keep track of on-page SEO, technical issues with your site, continuously find new keywords, backlink opportunities and much more.
SEO software that can house this essential information in one place, while assisting your research and evaluation, will definitely boost your productivity.
Without it, you're probably shuffling between a half dozen free, standalone SEO tools that you aren't even sure are accurate.
I've been doing SEO marketing for 10 years and I remember the early days of bouncing between Google's Keyword Planner, a free backlink tool, Google Search Console and various Chrome extensions to evaluate how things were going. 
Why I Recommend Using SE Ranking for Your SEO Marketing
For the past month I've been using SE Ranking on a free trial basis. SE Ranking contains the following requisite features:
Keyword suggestion tool
Website audit / crawl report
Keyword rank tracking
On-page grader
Backlink monitoring
Competitor research and more
Working your way through the tool is pretty seamless. First you'll set up a "project" where you input the website you want to work on, plus all the keywords you want to track. One of the options I really like with keyword tracking by SE Ranking is the ability to plugin multiple locations. 
As any good SEO knows, where you rank in one city isn't necessarily where you rank in another. This is helpful for companies or clients that have key geo-based markets they're targeting.
For insight into the amount of web traffic you're generating via search, you can sync your Google Search Console and Google Analytics account to your SE Ranking account.
Benefits of SE Ranking's Website Audit Tool
One of my pet peeves in the SEO world is the website audit. From their often absurd pricing, to their often absurd formatting, this deliverable is long overdue for improvement.
Many SEO tools that offer crawl reports generally spit out a 100 page PDF that is literally unreadable and unusable to any non SEO expert.
I was pleasantly surprised with the first report I generated using SE Ranking. It was only 16 pages and easily digestible. It was divided into sections by importance, and where the tool found a SEO error, the URL where the error was found was also listed.
The best part is that each area of the report came out with a written explanation of why these errors should be fixed.
To get your team to buy-in and do the work it takes implementing the recommendations of an audit, they need purpose. A crawl report that tells you "why" as well as "what" is quite helpful.
Backlink Monitoring
SE Ranking is unique in terms of backlink monitoring. It is one of the few tools that will connect to your Google Search Console account, and pull your backlink data that way.
Since tools that monitor backlinks have let me down in terms of their accuracy, I feel confident about this approach.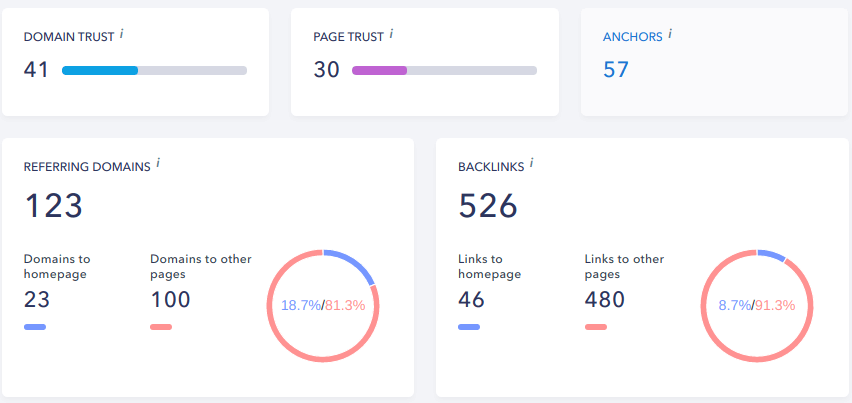 SE Ranking shows you the anchor text of each backlink. Linking high value keywords back to your website will surely increase your ranking for those phrases. It's a significant element Google's algorithm looks at for context and authority on a particular subject matter.
When it comes to pages that link over to you, if they become a 404 at some point (aka Not Found), the tool will alert you.
Competitor Research
You can save time doing competitor research, because SE Ranking will report multiple websites' position on Google for you.
When you plug each domain into the competitor feature, you'll be able to see where each company ranks for the keywords you're tracking for yourself.
As competitor websites move up or down, you can visit their blogs or web pages to inspect what SEO tactics they're using.
You can also use SE Ranking to see how they're acquiring backlinks, and potentially mimic their strategy or reach out to the same backlinking websites yourself.
Conclusion
The best SEO software companies present a similar set of features. The ones that have the most crucial features – like rank tracking, backlink monitoring, crawl reporting etc. – make the top of the list.
But SE Ranking probably has the best interface and speed of any SEO tool I've tried. I'm an incredibly patient when browsing the web, and don't like to waste time fumbling around looking for what I need.
It really has a clean look and layout, and I never ran into an issue finding the data or reports I was looking for.
If SEO is a significant aspect of your digital marketing (and it should be), give SE Ranking a try.